Daily Log - April 25, 1998

Today we experienced the worst weather of our trip so far. It has been "whiteout" conditions here all day. Yesterday our visibility was about 15 miles, virtually unlimited, but today it's been barely 100 yards. The temperature is 20 below right now, with 30 mph winds.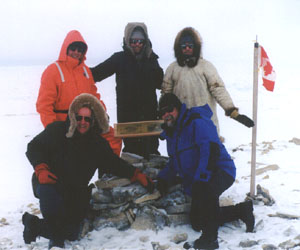 BACK ROW: DEREK SMITH, JOHN MACDONALD, DOUG STERN
FRONT ROW: JOHN HARRINGTON, RON RUST

Louie and his snowmobile came over and picked us up and we rode over to their camp at Crozier's Landing on a komotik, which is an Eskimo sled. At noon our time we had a ceremony. They have a plaque that they brought up from Gjoa Haven where The Northwest Passage Heritage Society is headquartered. They allowed us to participate in the unveiling of the plaque.

I read the contents of the note that was left behind on April 25, 1848. Ron Rust read an exerpt out of McClintock's book describing what a sad tale was told in that note. Cameron then spoke on his feelings about the expedition and today's ceremony, and Louie spoke on behalf of the people of Gjoa Haven. The plaque, which had been covered over by the hamlet flag of Gjoa Haven, was then unveiled. We have a Canadian flag waving there as well. Doug Stern, a member of the Canadian Rangers, gave us a good solid salute. We were well represented: Ron Rust from the United States; Derek, who is originally from Scotland; Louie, a native Inuk, and us "Canadians, eh" - a multinational representation here. (Webmaster's note: I informed them that their interview had also been broadcast on CBC radio at 6:00 pm - rounding things out nicely!)

We then toasted the event with a bottle of 1994 Australian Shiraz. The people who grew those grapes certainly didn't know where that wine was going to end up!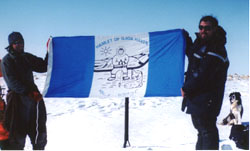 DOUG STERN AND LOUIE KAMOOKAK
WITH GJOA HAVEN FLAG

We each had rare books that we had brought up for the occasion to be signed at Victory Point. We signed one another's books.

We were driven back to camp here in the back of the komotik again. We signed those 129 rubbings that I did yesterday, and signed Ron Rust's documents as well. Lots of signing this afternoon!

When Louie looked at the igloo that Doug and John and Derek had built yesterday he said, "Doug, you're left-handed, aren't you?" And he was right!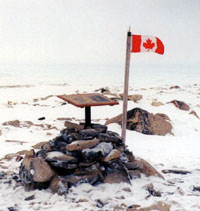 (Webmaster's note: I have asked the team to provide step-by-step instructions for igloo building when they get back. Hopefully they will explain how you can tell if the builder is left-handed!)
Louie phoned his father in Gjoa Haven to give him his route back since they have the problem with the broken-down snowmobile. If they're not back by tomorrow night at least they'll know where to search for them. He was thankful to use the satellite telephone.
We're scheduled to fly out tomorrow at 2:00 pm our time. The folks at Adlair figure the weather will clear by then, and we certainly hope so. Derek isn't well. He's going to be alright, but has come down with a flu - heavy shakes and fever. We don't want to all come down with that - we really hope to be out of here tomorrow.
It was a good day. It was THE day. In spite of the weather it was a full day. I'm shivering [edited] right now talking to you out here in the cold. I think that's about all. We should be in Cambridge Bay tomorrow. I'll call you as soon as we get there.


18

21

22

23

24

25

26

27

28

29

HOMEPAGE


Website by Netscapades Inc.